Gov. Dennis Daugaard just recruited a big ally in his battle with Canadian Pacific Railway: the U.S. Secretary of Agriculture.
Secretary Tom Vilsack, a former Iowa governor, sent the letter after meeting with Daugaard earlier this month.
Here's a photo of that meeting, posted to Twitter by Daugaard's chief of staff Dusty Johnson: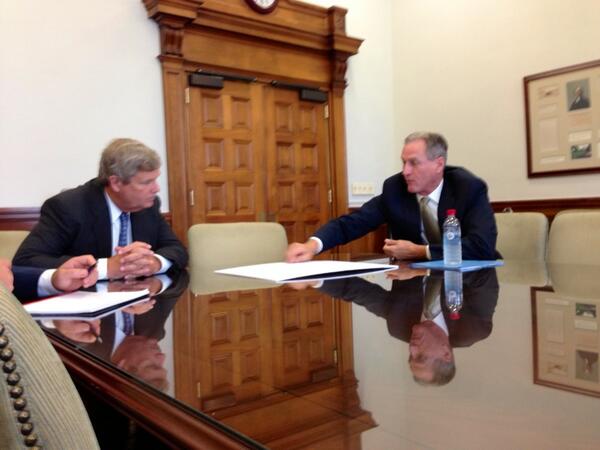 In his letter, Vilsack says the board should require Canadian Pacific to provide a "full accounting" of its investments in the DM&E track.
"USDA provided its support of the merger (between CP and DM&E) on the condition that CP kept all current connections to these other railroads open at economically competitive and non-discriminatory rates," Vilsack writes. "USDA also encouraged CP to make sufficient investment in the former DM&E line to maintain or improve its condition."
Daugaard wants the Surface Transportation Board to force CP to provide proof it spent what it said it would on the DM&E track — and stop CP from selling the South Dakota portion of that railroad if CP hasn't done so. CP says it's more than met its promises.
Here's Vilsack's letter: